Domestic Dog Training Conference & Club of the Year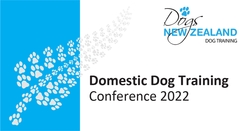 The Domestic Dog Training Conference will be held in December 2022 at the Kaitoke Outdoor Education Centre in Upper Hutt starting at 5 pm Friday 2 December and going through to midday Sunday 4 December. The flyer for the conference can be found here


We are also calling for nominations for the best Domestic Dog Training Club for 2022. Nominations are due by 4 November and can be submitted using the form below:
Nomination Form for Club of the Year 2022
---
April 2022 Voting Round Results
The results of the April 2022 Voting round were as follows. Full details can be found here:
https://dogobedience.dogsnz.org.nz/voting%20and%20discussion%20items/
General

Change to the composition of the Dog Training Committee (option 1 preferred – including Scentwork rep - 65.6%)
This option will go out for discussion and voting in August/October versus the status quo
Rally-O

Change to figure-8 pole height (pass - 96.3%)
Amend Encore Regulation 28.9.2 to exclude stations with Downs (pass - 97.5%)
Change to eligibility for Novice after 30 Novice Qualifying Rounds (pass - 71.3%)
Remove the jump from Rally-O Advanced and Excellent or amend the requirements (option 3 preferred - Remove the penalty for dislodging the jump bar - 50%)

Jump Option 3 (remove penalty for dislodging the jump bar) will go out for discussion and voting in August/October versus the status quo
Working Trials


Change to UD Leash Track regulations regarding track length (pass - 85.2%)
Change to TD Free Track regulations regarding track length (pass - 88.9%)
Delete definition of Working Area (pass - 92.6%)
Change to rules for conduct of NDOA inter-region Working Trials competition to allow one person to have two dogs in a team in different trials (pass - 85.2%)
The items that pass will come into effect on 1 January 2023.
---
Voting Register
The voting register can be viewed through the Dogs NZ website by following this link:
Obedience Voting Register
If you are not logged on to the NZKC site it will direct you to the log-in page and then take you back to the register once you are logged in.
You can check whether you are on the registers you think you should be on (Obedience, Working Trials and Rally-O) and also check your details. If any of the Voting Register details are wrong (or you are missing from a register) there is an option to email your region rep to get your details updated. There is also an option to request a change of your Dogs NZ member details (address, email, phone etc.) and this will send an email to the Dogs NZ office with the requested changes.
---
Obedience Top 20 Competition/Rankings
The Obedience Top 20 competition whcih was was suspended after 2019 is now back!
This allows people to see how they are doing each year relative to others around the country. There will unfortunately no longer be a $1,000 prize for first place but we hope to have some sponsor's product for the winner each year.
The rankings for the current year and previous years can be seen here:
Obedience Top 20
---
Obedience Awards Record Card
As a result of the April 2018 voting round the Obedience awards for achievement in each of the obedience classes has been introduced from 30 June 2018. This requires interested competitors to keep their own record of their achievements (scores of 95% or over) for each test and get these verified and signed by the show manager. The region representatives have been issued with record cards to distribute to competitors who want them. These are also available on request from the Dogs New Zealand office or you can print out your own using the file
here
.
---
Change of name
Change of name to Dog Training Committe and Dog Training Regulations
As per the vote from registered voters in April 2021, and the subsequent successful vote at the Dogs New Zealand Annual Conference of Delegates in June, the name of the Dog Obedience Committee will change to the Dog Training Committee and the regulations will be renamed the Dog Training Regulations.

This is to reflect the several different disciplines covered by the Dog Training Committee:
Competitive Obedience
Working Trials
Rally-O
Companion Dog Trials
Domestic Dog Training

The regulations have been updated to reflect this change.
---
Dogs New Zealand Club Handbook
---
NDOA Timing Vote
The voting survey on whether or not the NDOA should move back to Labour Weekend or remain at Easter has now closed. The results were as follows:

Move back to Labour Weekend: 69.58%
Stay at Easter: 30.42%

Therefore the vote to move back to Labour Weekend meets the required two thirds (66.67%) majority.

Subject to ratification by the Executive Council the NDOA will move back to Labour Weekend in 2021 (Southern Region).
---