Schedules
Upcoming show schedules:

Southland Dog Training Club

The Director/Secretary and the Dog Obedience Committee have approved the addition of one Rally-O Encore class to the championship Rally-O event being held on Saturday 5th January 2019.
The Encore class will be judged by Jo Miller and will be held after Excellent B. The entry fee is $5 per dog.
All other general entry information can be found on the schedule published on page 87 of the November 2018 issue of "Dog World".
Please address any queries by email to shows@dogtrainingsouth.com


Upper Hutt November 2018 Obedience: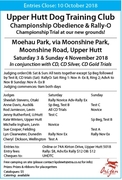 Whangarei Obedience, Rally-O and CD Schedule - November 2018

Hawera November 2018 Obedience: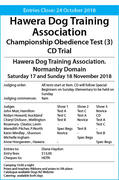 Hawera November 2018 Obedience Judges per show:
| | | | | | |
| --- | --- | --- | --- | --- | --- |
| Show 1 | Judge | Show 2 | Judge | Show 3 | Judge |
| S/B | Meredith Pitcher | S/B | Michelle Ingham | S/B | Anne Hoogeveen |
| Novice | Kenn Windley | Novice | Cheryl Dickson | Novice | John Muir |
| Test A | John Muir | Test A | Robyn Howard | Test A | Cheryl Dickson |
| Test B | Cheryl Dickson | Test B | Meredith Pitcher | Test B | Kenn Windley |
| Test C | Robyn Howard | Test C | John Muir | Test C | Rosemary Cleator |
| | | | | CD | Robyn Howard |
---